2018-2019 Competitive Team and Pre-Team
Delta Explosion Gymnastics Competitive Team
(ages 6 and up)
*Developmental and Competitive Team Members are chosen by annual try-out/Invitation Only. Try-outs are held mid-Spring each year.
Delta Explosion team members in Junior Olympic levels 1-5 compete USA Gymnastics compulsory routines.  J.O. Levels 6-10 compete optional routines choreographed for them by our staff. Delta Explosion also competes in the Xcel progam with athletes in levels Bronze-Diamond. Team members work out between 6 and 9 hours a week.  They compete in 6 meets throughout the state of Mississippi including the State Championship every year.  Our competitve season runs October-April and athletes are required to participate year round. Athletes chosen for team must demonstrate positive attitudes and a strong work ethic, along with strength and ability to BE coached. All athletes must first participate for 1-2 years on our Developmental Team before they have the possiblity of being invited to join the full Competitive Team.
Developmental Team
(ages 5 and up)
Developmental Team (formerly called Pre-Team) is our developmental class preparing gymnasts for joining our full competitive team. These athletes compete the level of Xcel Bronze and work out between 4 and 6 hours a week. They compete in 2 in-state meets per year and they have the option of competing in the State Championship. Athletes chosen for Developmental Team must demonstrate strength, a positive attitude, and must be able to listen to directions and learn.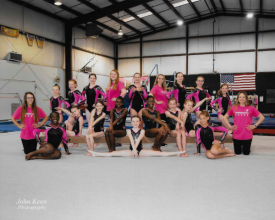 2017-2018 Competitive Team and Pre-Team