Rules and policies
ALL SCHEDULES SUBJECT TO CHANGE
Please enter through YMCA main lobby door.
All members must scan in with YMCA Member card
Masks are REQUIRED to enter the facility.
We will NOT be providing towels, please remember to bring your own.
Please bring your own water as public drinking fountains will NOT be available.
Please follow all instructions from our Staff upon entry.
Adult Lap Swim: There will be lane ropes in place for continuous swimming. The number of dedicated lanes will vary. 4 individuals per lane maximum allowed.
Free Swim: Space available for recreational activity. The amount of space will vary.
Aqua Fitness: Group exercise, led by an instructor.  See Current Pool Schedule for days/times
---
The pool has 2 sides. A lap side (larger pool) and a family side (smaller pool with stairs). The schedule will state a side for an activity. If no side is stated then that side is available for Free Swim. 
When a name appears in a space, this is the leader at that time. If no name appears, the pool is open and staffed but no leader for the designated activities.
Pool Schedule and number of lanes offered is subject to change without notice. 
---
Pool Parties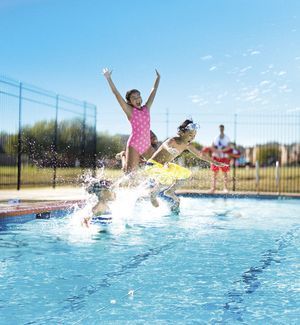 Let our aquatic staff provide a safe and fun environment for your party.
You provide refreshments. 
Up to 25 children allowed (ages 2-15) (Maximum 50 people due to COVID-19)
PARTY DAYS AND TIMES: 
SATURDAY:
10:00am – 12:00pm
1:00-3:00pm
4:00-6:00pm
6:00-8:00pm
SUNDAY:
2:00-4:00pm
4:00-6:00 pm
6:00-8:00pm
PARTY FEES: 
$125 Members (2 hour party)
$150 Non-Members (2 hour party)
($25 non-refundable deposit required)
Contact Mickie Sandidge to schedule party. 662-335-7258